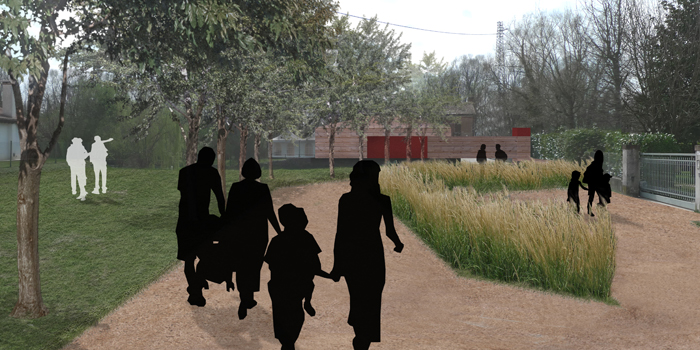 The intervention in question refers to the construction of a small hydroelectric plant on the River Sile on the site of a former mill -Mulino Bomben- and the consequent reconfiguration of the access area to the Oasi Cervara.(Cervara Oasis)
The oasis is a natural reserve covering 25 hectares of marshland situated a few kilometres from Quinto di Treviso and is one of the information points and entrances to the Sile Park.
The presence of a raised point in the river bed has meant that since the XIV century it has been possible to take advantage of the water energy, firstly through a mill system and in the last century thanks to a hydroelectric plant.
The Bomben mill is no longer visible today.
The intervention proposes the following objectives:
reclaim the role of the River Sile as a generator of 'clean' energy, thanks to the insertion of an Archimedes screw that takes advantage of the hight difference of the existing water, thus restoring a centuries-old tradition
render the insertion of the Archimedes screw as an occasion for reclaiming elements tied to the location's history and an opportunity for knowledge
reorganise the access area to the Oasis in a way that makes it recognizable and identifiable, eliminating the lack of distinction between the public space and the private access.
The project revisits forms and existing materials (grass, compacted earth, wood), seeking to give to this space a minimal structure, made of few but significant elements.
Credits
Quinto di Treviso (Tv), 2010
Client: B&M Ingegeneria
Project_ Consultation: Made associati _ Michela De Poli e Adriano Marangon