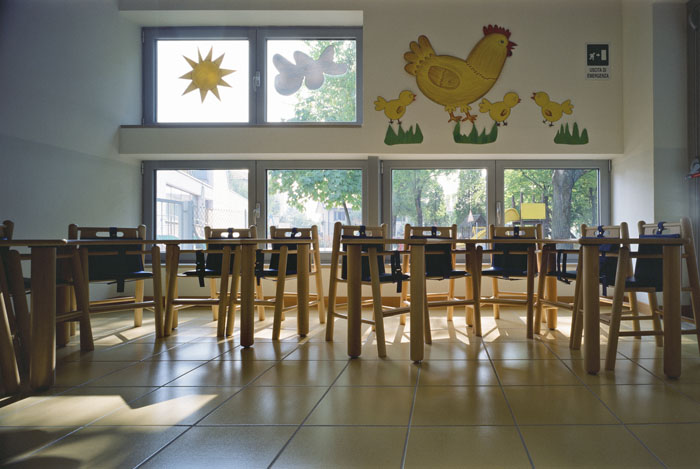 The project concerns the realisation of a kindergarten connected to the "Graziano Appiani" nursery-school (1920).
As the main purpose of the project is to develop a single floor structure for all the educational activities, the building has been organised in order to gather the sunlight.
The building is made up of a bigger construction built in Reinzin and placed next to the West Side of the nursery-school. Towards the road a shorter structure marks the entrance as the arrival from the outwards.
The organisation of the internal rooms has been studied to create different situations that offer a multiplicity of suggestions to the children. The articulation of the spaces gives the opportunity for several occasions of playing. The welcoming hall is placed at the entrance.

The first approach with other persons is meant to take place in the recreation big room, where the space has been conceived to allow a wide perceptive impact. The high ceiling makes it possible to hang objects that animate the room. Thus it becomes a sort of gallery for modest public exhibitions, where drawings can be hung and plays displayed, etc.
The area designed for the quiet educational activities has been placed in the south, strictly connected to the garden.
The children can either stay alone or together, can choose whether to withdraw in a corner, to hide themselves, play and read a book, chat with a classmate or talk to a few friends.
Between these two spaces and the bigger hall it is possible to find the areas conceived as "boxes" of different colour. The glass box is one amongst these. It has a transparent ceiling through which raindrops or snowflakes can be observed. From this room children have the opportunity to watch nature at close quarters as if it were a small glasshouse for educational experiments. Towards the garden, the building establishes a bridgehead with a long porch.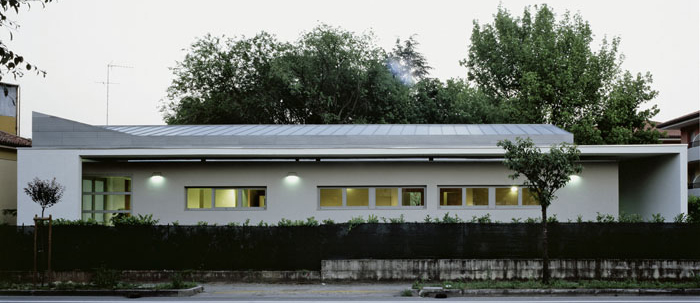 Crediti
Treviso, 2001
Committente: IPAB, Comune di Treviso
Progetto: Made associati _ Michela De Poli e Adriano Marangon
Strutture: arch. Alessandro Zorzi
Sicurezza: geom. Francesco Merlo
Area: 5679mq.
Superficie: 504mq.
Costi: €650.000,00
Foto: Alessandra Chemollo, Adriano Marangon