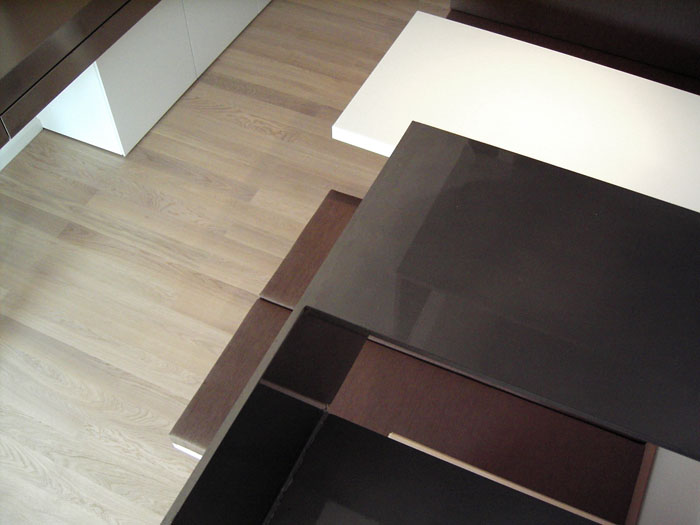 The project for a small beach apartment represents a reflection of minimum spaces and their polyfunctionality. This location, inserted in a six-story apartment block composed of numerous densely lived-in and utilised apartments, has been re-interpreted as a neutral space both in the surfaces and the materials, in an effort to extract the object lived in from its context, and urging it to become a silent space of occasional living.
The apartment is in a building built in the 70's, and the floor surface of 45 Sq Mt is distributed on two levels. The apartment is a small holiday home and consists of due main rooms, bathroom and toilet. Considering the dimensions of the environment we wanted to give preference to a a free use of the spaces, furnished with simple volumetric elements having an open and flexible functionality.
This is seen in certain objects/events where the main activities of the house happen, that take advantage of the space utilised allowing a diversified use: the entrance level represents the cooking area of the kitchen space that becomes storage and work tops; the kitchen table can be lowered to generate a large surface for relaxing or as an emergency bed for guests.
The wall mounted floating staircase that goes up to the upper level is composed of a series of singular self-supporting metal elements.
Numerous closed containers are distributed throughout to leave the small spaces always free of objects.
Credits
Bibione, (Ve) 2004
Client: Private
Project: Made associati _ Michela De Poli & Adriano Marangon
Link:
un-studio-tres-fonctionnel