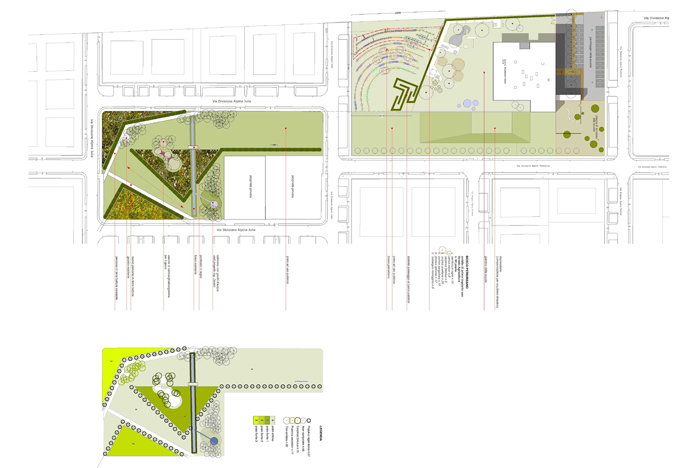 The public park planned within the upcoming subdivision of building lots at Zero Branco has been designed to link the existing open spaces together and render them more functional for the new construction that will occupy the lots. With the re-designing of the area a relationship has therefore been created. The relationship goes beyond one of physical location, free perception, free fruition, free rapport, and aims also to be didactic and useful for the activity of the new nursery school and to the townspeople who frequent the area on a daily basis.
The area destined for the redesigned Public Park is composed of two areas completely free of vegetation and separated by a road. The two areas, north and south, have been treated differently according to their different propensity whilst maintaining the homogeneous characteristics of a green area.
The northern area is characterised by a wooded suburban formation. The trees utilised all come from forests. The small plants in their slow evolution will become a wooded piece of land for didactic use, a small open-air 'green' laboratory.
The planting of the trees took place with the direct participation of the Nursery School, and in collaboration with the State Forestry Corps and Veneto Agriculture in a one-day event named 'Piantiamola!' (Let's Plant!).
The southern area has been designed taking into consideration the current presence of urban fittings and furnishings with some relocating. The green area has been subdivided by means of green 'walls', i.e. screens of vegetation characterised by tall column shaped trees and containing small areas of flowers.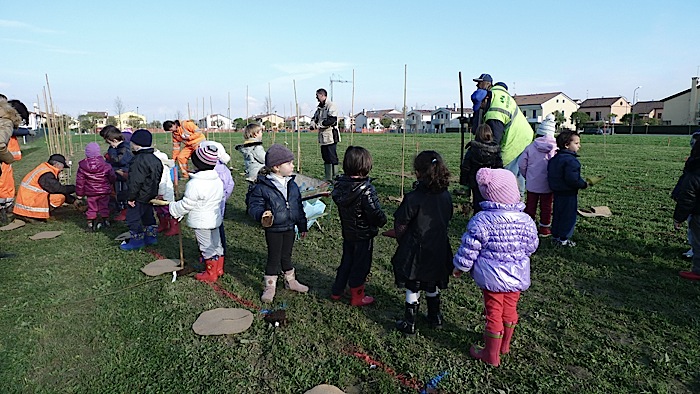 Credits
Zero Branco (Tv), 2010
Client: Comune di Zero Branco
Project: Made associati _ Michela De Poli & Adriano Marangon
Consultent for wood area: Alessandro Faggian
Photo: Michela De Poli, Adriano Marangon