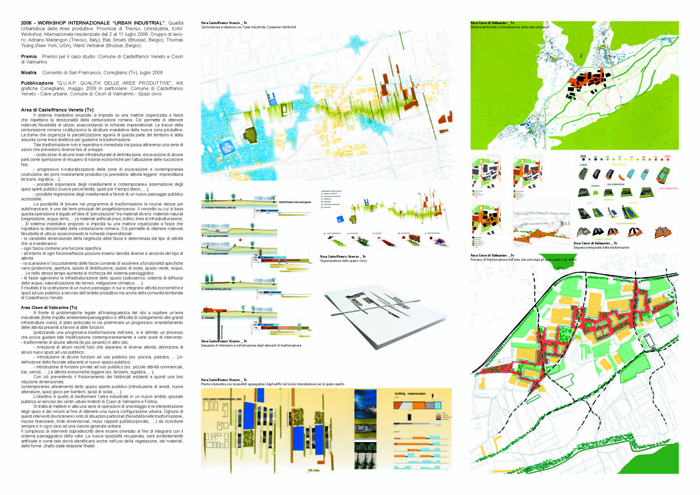 The QUAP project began with the joint request by Treviso Unindustria and Treviso Municipality to conduct a multidisciplinary study into the productive areas in the Treviso Municipality and the possibility to improve their functionality, appearance or, in more general terms, the overall quality.
Studio Workshop with the selection of a group of international professional experts.
Castelfranco Veneto (Tv) Area
The site localisation is arranged on a matrix system organised in strips that respect the directionality of the Roman centuriation. This system achieves a notably flexibility in meeting the needs of businesses.Traces of the Roman centuriation make up the location sites of the new productive zone. The pattern that organises the agricultural divisions in this part of the territory has been employed as a guide line for the transformation.
The result is the construction of a new landscape in which business activities are integrated with public spaces serving the productive areas but also the territorial community of Castelfranco Veneto.
Cison di Valmarino (Tv) Area
Faced with problems tied to the inadequacy of the site location for an industrial area (strong environmental/landscape impact and difficulty of connection to the large road network infrastructures), a preliminary hypothesis was decided for a progressive dismantling of the current activities in favour of other functions.
A process was thus defined able to guide such a modification at the same time as various scales of interventions.
The objective is to transform the industrial area into a new spacial public environment serving the neighbouring town centres of Cison di Valmarino and Follina.
Dismantling operations and re-interpretation of the spaces and buildings were started with the aim of achieving a new urban configuration. Each of these interventions must take into consideration particular situations (flexibility of the transformation, financial resources, dimensional limitations, mutual public/private relationships,…) always to be considered as the aim in every case for a joint general vision.
Credits
Conegliano, 2006
Clients: Unindustria Treviso, Treviso Municipality, IUAV, The Association of Architects for Treviso Municipality
Work group: Adriano Marangon (Treviso, Italy), Bas Smets (Brussels, Belgium), Thomas Tsang (New York, USA), Ward Verbakel (Brussels, Belgium).