"Definition of guide lines for the transformation of land destined for small manufacturing industrial zones in areas handled by the supra-municipality of Reggio Emilia Province" is a research originating from a protocol of intent drafted between the Reggio Emilia Province and Venice IUAV University. The research looks at the theme of large scale territorial modifications regarding the land settlement of three industrial zones distributed in different areas in the Reggio Emilia Province.
The three cases are represented by the following supra-municipal areas of productive qualification interest:
a. area 1_Poviglio – Boretto
b. area 2_Cadelbosco di Spora
c. area 3_Canossa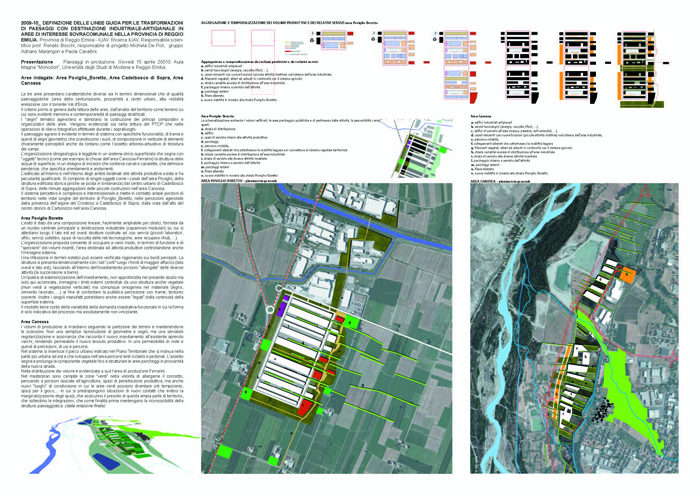 The three zoned areas identify sites with different characteristics in their interrelation with the landscape on which they are formed and which surround them. The three areas are connected by ongoing transformation processes in different states of realisation.
Starting from the quality of the sites, the research has looked at the theme of productive land settlement capable of redesigning itself through references of the landscape worthiness that the sites demonstrate, and that make them become places of livelihood and interrelation that respond to existing normative requirements.
The project forms itself, taking form and character from the land itself, working together with it in a duel subject-object action. The functionality is demonstrated by the industrial areas positively taking on the role of 'part of the city' in that they are part of the life of those who work and live in this environment for a large part of their time. The formality is expressed as construction of a wedge of land that is looked at but from whom it is being looked at by.
Within this synergy you give a response to the existing normative requirements.
The end is to construct a reflection designed in quality materials of the land settlements, and temporality of their realisation controlled in how they are executed and evolved.
The industrial area is interpreted as a place that produces sociality, that constitutes a public service in terms of free time, that favours collective use of the spaces, that controls energy supply processes and sustains ecological principals, proposing a vision of innovative production landscaping.
Credits
Reggio Emilia Province
IUAV Venice University
Work group: Scientific manager: Prof. Renato Bocchi, Project managers: Michela De Poli, with Adriano Marangon, Paola Cavallini