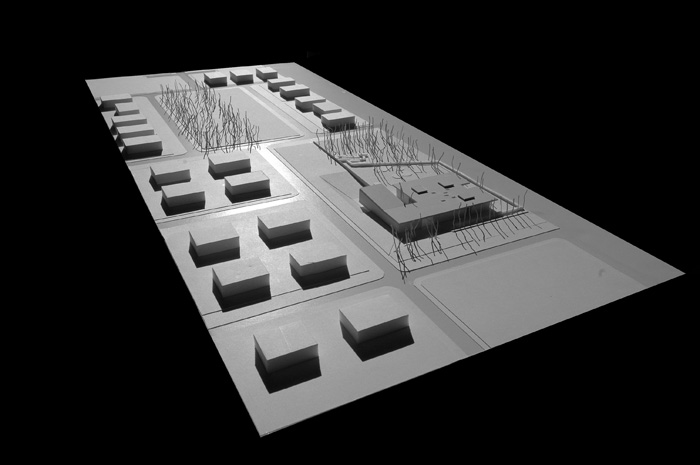 There has been two operations for the disposition and 'upgrading' of the new school, the first linked to the spatiality of the location, the second linked to planimetric development of the building.
The assumption is that the spatiality of the location is of essential value:
in its exact existence as an element that distinguishes the space surrounding the school and the space within the neighbourhood
in its continuity value that determines the visual, perceptive and useable 'sum' of the different open spaces as they they relate to each other through the project: in this you have ongoing practicality and functional homogeneity. The existing public park is enlarged towards the school and the school garden space is therefore joined with the neighbourhood space.
This double role has generated a single design for the external area that has been defined as woodland. An urban woodland at the service of residents and the school.
The planimetric development and the disposition of the volumes feel the effect of the high value that the school must have as:
a place of scholastic functions
a beacon of sociality in relation to the neighbourhood
This ambivalence has guided the organisation of the internal spaces towards the outside in their predisposition of use.
Crediti
Zero Branco (Tv), 2010
Client: Comune di Zero Branco
Project: Made associati _ Michela De Poli e Adriano Marangon
Structure: Studio Pilati
Installations: ing. Stefano Melato
Safety: geom. Vito Rizzo
Cost: €2.290.000,00
Prize
Project selected for the Prize for Urban and regional planning "Luigi Piccinato"