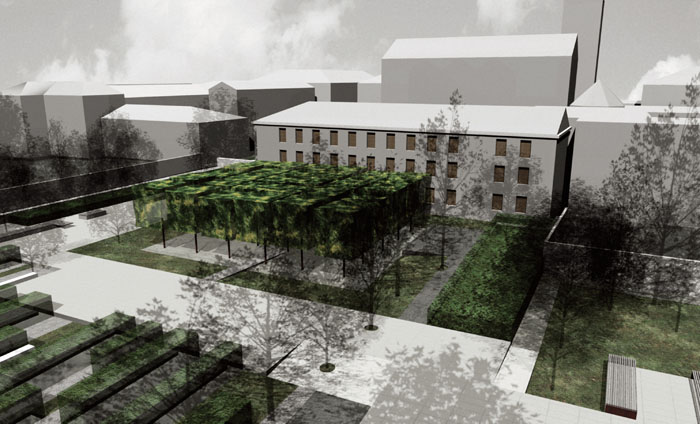 The area of the former botanical gardens at San Giobbe represents an exceptional event inside the historical centre of Venice for different reasons: from its origin as an ancient site of the historical convent of San Giobbe, during the period of the 9th Century it became the prestigious Royal Botanical Gardens in which more than 5000 plants were cultivated (as documented by the German gardener, Ruchinger), the area was then occupied at the start of the 10th Century by a German torpedo factory, and recently it was partially transformed into a sports area for employees of Enel.
Following a careful, in-depth analysis with a reconstruction of the area's evolutional phases (through written archives) the project translates the incisiveness of the present/permanent limits through two actions: by responding with a design recomposition, in which the past is even more evident and able to maintain its identity in relation to the new planning and usage; or by developing it in a more evident way introducing new forms and content, in the part of the area where every historical reference has been cancelled.
The project now in the process of being undertaken foresees the development of the themes that have characterised the history of the location and seeks to maintain the existing garden landscaping, whilst also suggesting and remembering the historical occupation of the area through thematic areas. As shown in the attached diagrams the succession of open spaces, that will be destined as a public park, re-present the memory again of the old convent site as identified by the tree-lined square, the old formal garden area with the re-proposal of a geometric green design where the new bar/restaurant building is located, and the area of the historic woods in which a delicate work of salvage/rescue will be completed with the aim of maintaining the two hills densely wooded.
Credits
Canareggio, Venezia, 2002 – 2011
Client: arch. Diego Baldo
Project landscape: Made associati _ Michela De Poli e Adriano Marangon
Area: 15.000 mq.
Costs: € 1.200.000,00