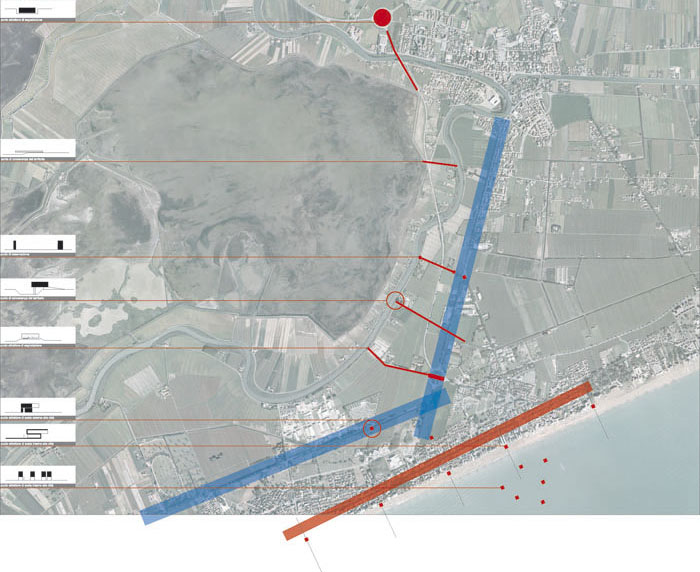 The project refers to the making of a pedestrian island along the Via Bafile road, an area that comprises a total of 650 MT stretch of road from Piazza Marconi and Piazza Trieste, and its connection to the sea by Via Tempini. (Jesolo – VE).
Indications from the Administration that also derive from a concourse inviting ideas in 2000, foresees a pedestrian route for the entire stretch of road assuring normal accessibility to private areas, a re-qualification of the relationship with the beach accesses, the presence of tourist attractions along the road able to promote tourist activity in the different hours of the day and season.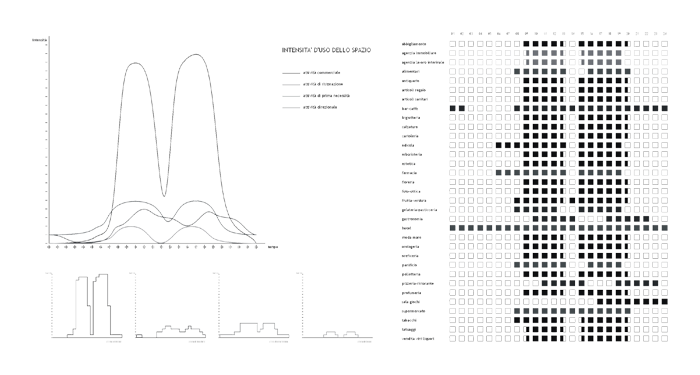 Considering the particular characteristics of the area it was retained necessary to create an analytical path that was able to restore the peculiarity and the potential of the road. The analysis, implemented through different instruments, reveals the uses of and the different ways to use Via Bafile.
A reference matrix was compiled using overlapping thematic factors for the analysis i.e. road, accesses, beach accesses, public empty/space, functions, activity drivers, space occupation density, borders. The matrix represents a trace of the sensibility of the road and also its new design.
The first project operation redesigned the road quotas, putting on the same level what was previously pavement or roadway. This new centrally constructed area aims to be perceived as an elongated square with numerous events happening within it.
The new road design is directly connected to its maintenance.
The road is marked with a high presence of inspection points for underground services due to the passing of these services below street level such as fibre optic cable for high-technology networks.
These repetitive elements were taken as a pretext and employed as project themes for the elongated square. From points of weakness and discontinuity they become the origin from where the new pattern starts, transforming themselves from intrusive objects into features of the road's redesign. Every inspection pit resonates in a cover made of different materials, metallic or cast iron, creating alternating covers of particular materials. The partly removable covers allow access to the inspection pits. The drains are not seen in that they are positioned at the edge of the compensation cover.

Mobility
One-way transit is only allowed for access to owned property, activities and for service vehicles – loading/unloading
Uses e road furnishings.
The road design allows different uses of the open space. The road has been fitted with fixed road furnishings and with flexible objects for more than one use.
Boxes, poles, beach accesses
Materials
The new town landscape has also been redesigned through the experimental use of road surface mixes spread over the horizontal surfaces.
All of the beach accesses are finished with wooden cubes laid into the sand creating a connection that is also a material one to the beach area.
Credits
Jesolo (Ve), 2003
Client: Comune di Jesolo (Competition first prize)
Project: Made associati _ Michela De Poli & Adriano Marangon with Marco Zito -architect